ACDIS' call for presentations for the 2019 annual conference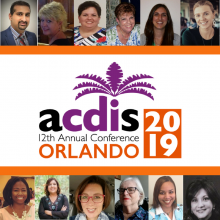 Our 12th annual conference will be held May 20-23, 2019, at the Gaylord Palms Resort & Convention Center in Kissimmee, Florida. ACDIS is currently accepting applications for speakers. The deadline for submissions is August 31, 2018.
The 2019 Conference Committee determined must-have sessions and track suggestions to assist those submitting applications. To read them, click here. Additionally, the August 1 ACDIS Radio program offered information regarding the application process. Please review these resources prior to applying.
The application process remains similar to that of previous years, although a draft slide deck of the presentation is now required and the application includes an option to upload a recording of the presentation as well. To submit an application via our online conference management system, click here.
The committee will assess applications based on a number of criteria, including:
Clarity
Creativity
Speaker credentials/experience
Program level (ACDIS seeks a balanced representation of beginning, intermediate, and advanced sessions to meet all experience levels)
Compliance in adherence to coding, regulatory, clinical, and query best practices
Inclusion of supportive materials (take home items or illustrative charts/data)
Audience engagement (polling, show-of-hands, unique features)
The application process will remain open through August. Click here, to begin your application now.
 
Found in Categories:
News