NAHRI Leadership Council
Engaging revenue integrity leaders in thought leadership and strategy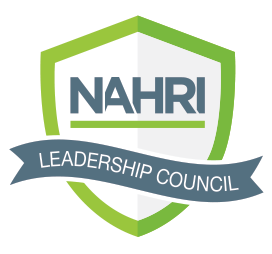 2023 Platinum Sponsor:
The NAHRI Leadership Council is the platform revenue integrity leaders need to remain on the cutting edge of revenue integrity thought leadership and strategy. Through focused research reports, customized analysis, and peer-to-peer networking, the Council acts as a sounding board for revenue integrity leaders who seek to stay up to date with current trends in hospital reimbursement while blazing new paths for an ever-evolving industry.
NAHRI has heard time and again that revenue integrity leaders often find themselves "going it alone." Some landed in revenue integrity positions after working in chargemaster or revenue cycle roles but struggled with the full scope of what the emerging profession entailed. Others already had a wealth of experience and knowledge from leading large revenue integrity departments but lacked a peer group to benchmark their efforts against. The one thing all these leaders had in common, whether they were flying solo and learning the ropes or managing dedicated departments, was a desire to connect with others like themselves.
The application period for the 2024 term (January 1, 2024-December 31, 2024) is now open. Read our eligibility and participation requirements here. Apply here.
The NAHRI Leadership Council offers a deep dive into the daily challenges of revenue integrity leadership by bringing select members of the community together to educate one another and share actionable strategies aimed at improving workflow and securing buy-in from decision-makers. 
NAHRI Leadership Council members are selected through an application process that analyzes background and experience and based on their commitment to thoughtfully respond to industry surveys on topics that impact their daily professional lives. In exchange for providing valuable responses that monitor the evolution of the field, members gain access to an exclusive online community, monthly e-newsletters, and quarterly virtual networking calls dedicated to sharing leadership insights, resources, and best practices. Select members are also invited to participate in additional high-level networking, including our annual Revenue Integrity Leadership Exchange.
Council membership benefits include:
Make your mark on the revenue integrity and revenue cycle communities by sharing valuable insight in high-level industry surveys that are designed with the help of you and your peers
Gain early access to research findings that can help shape the future of the industry
Share your knowledge and expertise by contributing to research reports and custom content
Network with fellow leaders from across the country in an exclusive online community where you can expand your professional reach and learn new skills
Engage in advanced discussions with fellow leaders during quarterly Council calls where you will have the opportunity to learn from peers while also showcasing your own innovative strategies
Take advantage of exclusive discounts on NAHRI membership and association offerings
Be the first to secure invitations to elite leadership offerings, such as the Revenue Integrity Leadership Exchange
To support our suite of benefits, Council members gain access to a members-only community within the NAHRI website and receive our exclusive NAHRI Leadership Insider enewsletter to remain up to date with industry changes and Council updates.
Members would be considered in good standing if they participate in 75% of networking calls, surveys, and research reports.
For additional information, email Nicole Votta, director of NAHRI, at nvotta@hcpro.com.