Thank you for attending the 2017 Revenue Integrity Symposium
Wednesday, November 1, 2017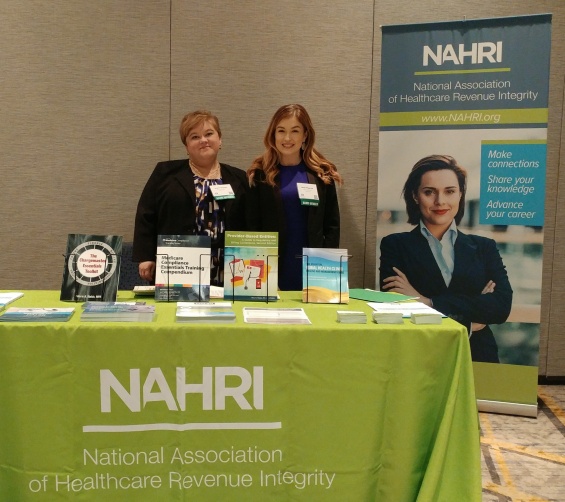 Thank you to everyone who joined us October 23–24 at the 2017 Revenue Integrity Symposium in Franklin, Tennessee. We enjoyed connecting with current and future NAHRI members in the exhibit hall and conference sessions. 
Being my first time at the Revenue Integrity Symposium, I was beyond excited to meet our membership of revenue integrity professionals in person. Suffice to say, I was not disappointed. One of my favorite moments was running into someone whom I'd interviewed for a Revenue Integrity Insider story for the first time. It was a pleasure getting to talk in person to all of you. 
We had the chance to mingle with conference attendees at two exciting networking receptions. On the evening of Sunday, October 22, NAHRI members were given the opportunity to enjoy light refreshments and conversation while sitting around the fire on the outdoor terrace at Franklin Marriott Cool Springs. The second reception on Monday, October 23, afforded all Revenue Integrity Symposium and Revenue Cycle Exchange attendees the opportunity to network with each other as well as our sponsors and exhibitors after a jam-packed day of educational sessions.
We kicked off day one of the Revenue Integrity Symposium with the NAHRI Roundtable, where select NAHRI advisory board members discussed the latest trends impacting the revenue integrity profession, including Medicare Advantage plans and the increasing responsibility on billing. Other highlights of the first day included a general session covering OPPS/APC payments and the importance of Appropriate Use Criteria.
The NAHRI Advisory Board held a meeting on day one to discuss exciting membership benefits coming in 2018, including quarterly member calls and the launch of NAHRI Radio, both of which will offer members time to network and share ideas.  
The momentum continued for day two of the conference, which began with Revenue Cycle Exchange members highlighting innovative strategies at their facilities.
"There was so much excitement in the air at this year's Revenue Integrity Symposium. It was great to see attendees engaging with one another as well as with the speakers, sponsors, and exhibitors," says Jaclyn Fitzgerald, associate director of NAHRI. "I enjoyed having the opportunity to meet with so many NAHRI members and to sit down with the NAHRI Advisory Board. I look forward to seeing everyone again at the 2018 Revenue Integrity Symposium."
Stay tuned for an announcement about the dates and location for the 2018 Revenue Integrity Symposium. Thank you to our sponsors and exhibitors for making the event possible.