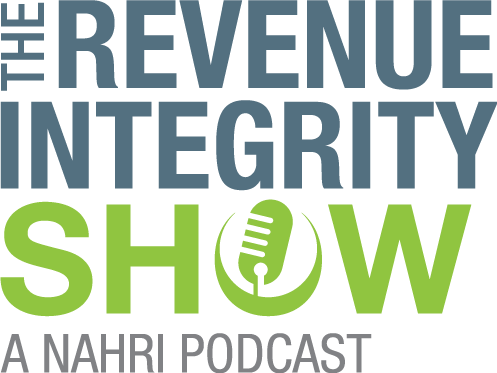 The Revenue Integrity Show is a bi-weekly podcast presented by the National Association of Healthcare Revenue Integrity (NAHRI). Streaming live every other Thursday at 3 p.m., a recording of The Revenue Integrity Show is later available on the NAHRI website (scroll down for information) and via the following streaming platforms:
The Thursday, October 21, 2021, episode of the Revenue Integrity Show podcast will be the final edition for the foreseeable future. NAHRI will continue to bring members experts insight and opportunities for engagement with its quarterly member calls, weekly Revenue Integrity Insider emails, and the annual Revenue Integrity Symposium.
The full archive of episodes will remain available if you would like to revisit any previous topics or conversations with experts. Please stayed subscribed to the RSS for any future NAHRI announcements!
Contact nahri@hcpro.com to become a guest on The Revenue Integrity Show. 
Past Shows - See Top of Page for Streaming Platform Options or Click the Links Below for Streaming through the NAHRI Website
LISTEN TO THE ARCHIVES
| Title | Date | Category |
| --- | --- | --- |
| ED facility levels and critical care (October 21, 2021) | October 21, 2021 | Billing and Claims, Coding and Documentation |
| Provider Involvement in Revenue Integrity (October 7, 2021) | October 7, 2021 | Revenue Integrity |
| Healthcare Consumer Payment Trends (September 24, 2021) | September 24, 2021 | Reimbursement and Payment Methodologies, Revenue Integrity |
| The State of Price Transparency (September 9, 2021) | September 9, 2021 | Chargemaster and Charge Capture, Revenue Integrity |
| Clinical documentation data holds the key to relieving physician burnout (August 26, 2021) | August 27, 2021 | Coding and Documentation, Program Management, Revenue Integrity |
| Data-Driven Denial Prevention: New Tactics to Halt Old Finger Pointing (July 29, 2021) | July 30, 2021 | Denials and Appeals, Revenue Integrity |
| Life After the Pandemic: What Are Employees Looking For? (July 15, 2021) | July 20, 2021 | Program Management, Revenue Integrity |
| Defining a Revenue Integrity Department Structure (June 3, 2021) | June 3, 2021 | NAHRI Leadership Council, Program Management, Revenue Integrity |
| 2022 IPPS proposed rule | May 20, 2021 | Billing and Claims, Reimbursement and Payment Methodologies, Revenue Integrity |
| Turning Denials into Change Agents | May 6, 2021 | Denials and Appeals, Program Management, Revenue Integrity |
Pages